FOR IMMEDIATE RELEASE
DETROIT, OCTOBER 24, 2019 – For the fourth year in a row, International Bancard (IB), a Detroit-based payment acceptance solutions provider, has been named one of Metropolitan Detroit's Best and Brightest Companies to Work For® in 2019. The winning companies were honored by MichBusiness on Tuesday, October 22, 2019 at the Henry Autograph Collection hotel in Dearborn.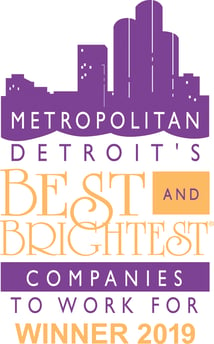 The Best and Brightest Companies to Work For® is a program that provides the business community with the opportunity to gain recognition, showcase their best practices, and demonstrate why they are an ideal place for employees to work. This national program celebrates those companies that are making better business, creating richer lives, and building a stronger community as a whole. It is presented annually in several markets including Atlanta, Boston, Chicago, Dallas, Detroit, Houston, Milwaukee, San Diego, San Francisco Bay Area, and Nationally.
An independent research firm evaluates each company's entry based on key measures in various categories. They include Compensation, Benefits and Employee Solutions; Employee Enrichment, Engagement and Retention; Employee Education and Development; Recruitment, Selection and Orientation; Employee Achievement and Recognition; Communication and Shared Vision; Diversity and Inclusion; Work-Life Balance; Community Initiatives; Strategic Company Performance and the Best of the Best Small Business, Medium Business and Large Business.
"International Bancard is honored to be recognized by MichBusiness for the fourth consecutive year as one of Detroit's Best and Brightest Companies to Work For®," said IB's Chief Administrative Officer, Amy Schaden. "Our team works hard each day to develop and enhance our employees' experience, and we will continue to focus on our employees' success."
"This award has become a designation sought after by hundreds of Metro Detroit companies and is a powerful recruitment tool in the drive to attract and retain exceptional employees," said Jennifer Kluge, President and CEO, Best and Brightest Programs.
The complete list of award winners for the 101 Best and Brightest Companies to Work For® in 2019 can be found here.
About International Bancard:
International Bancard, a Detroit-based FINTECH company provides payment acceptance solutions for businesses, financial institutions, Independent Software Vendors (ISVs), associations and Independent Sales Organizations (ISOs) located throughout the United States. Offering seamless, secure and innovative solutions, IB prides itself on the promise to exceed the expectations of our clients, our partners and our employees. For more information, visit internationabancard.com.
About MichBusiness
MichBusiness (formally Michigan Business and Professional Association) boasts a statewide sphere of influence that no other organization of its kind can claim, leveraging a depth of programs and community initiatives that positively impact more than 150,000 businesses. Visit them online at michbusiness.org.